SMS GAZELLE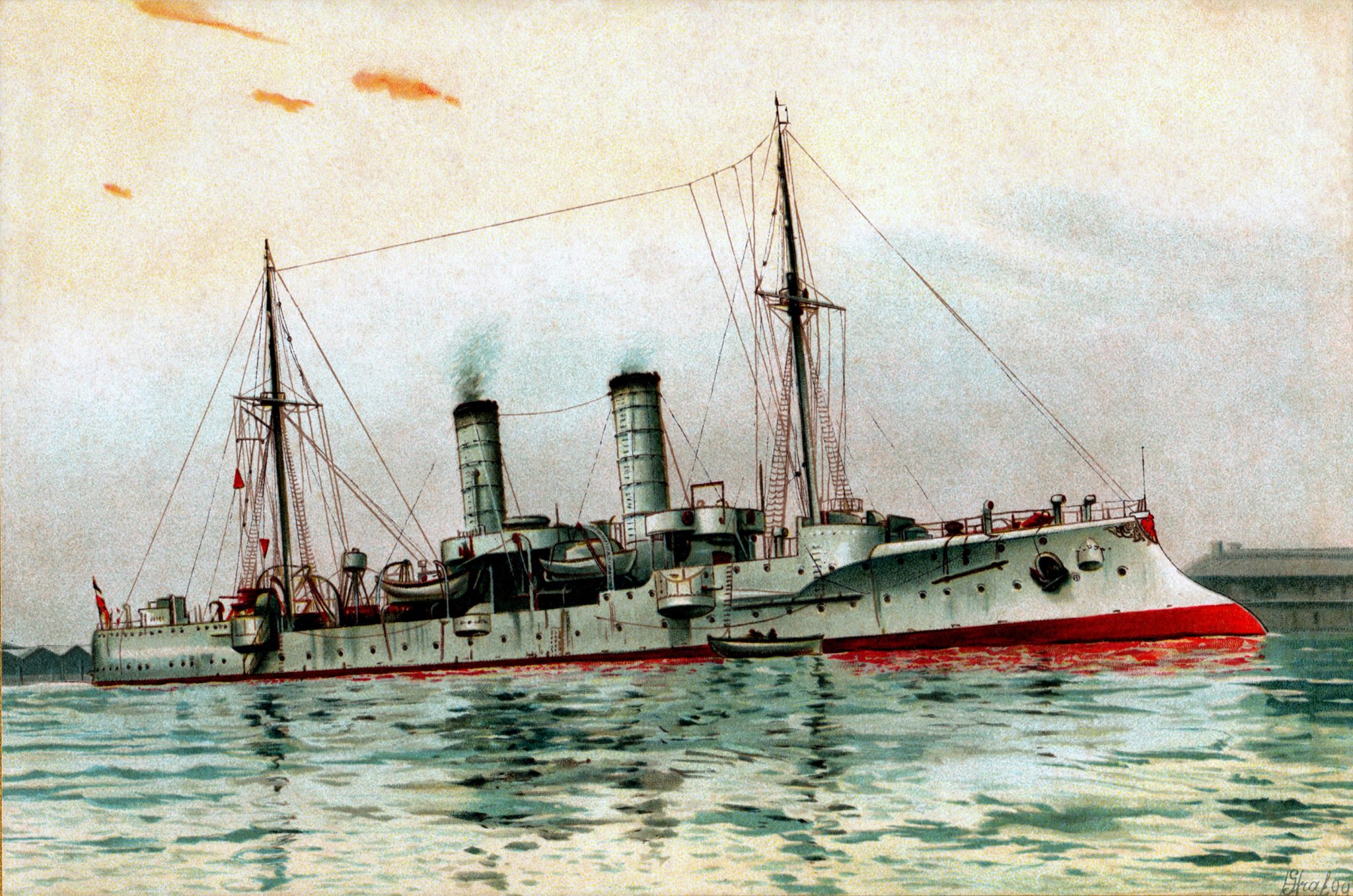 SMS GAZELLE 1898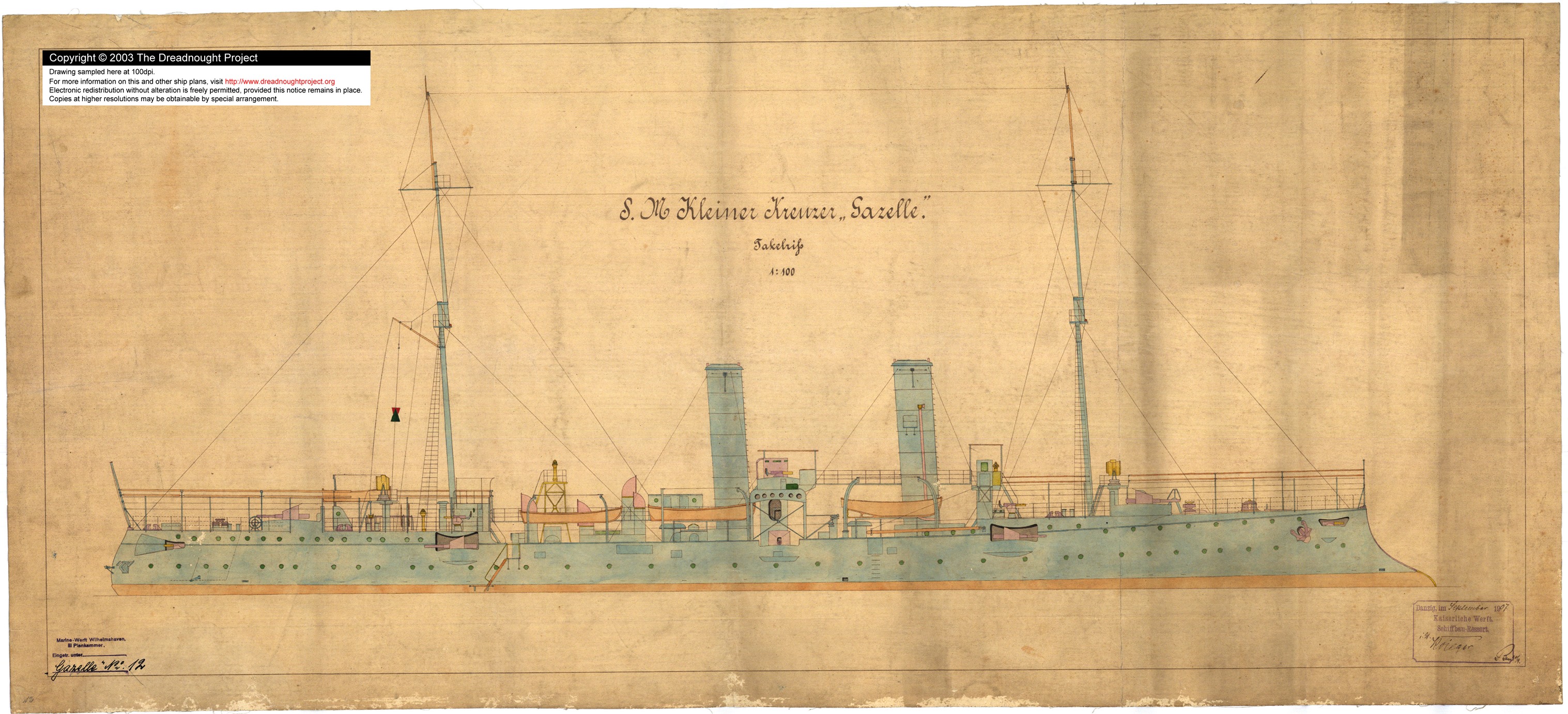 A STD SIDE VEIW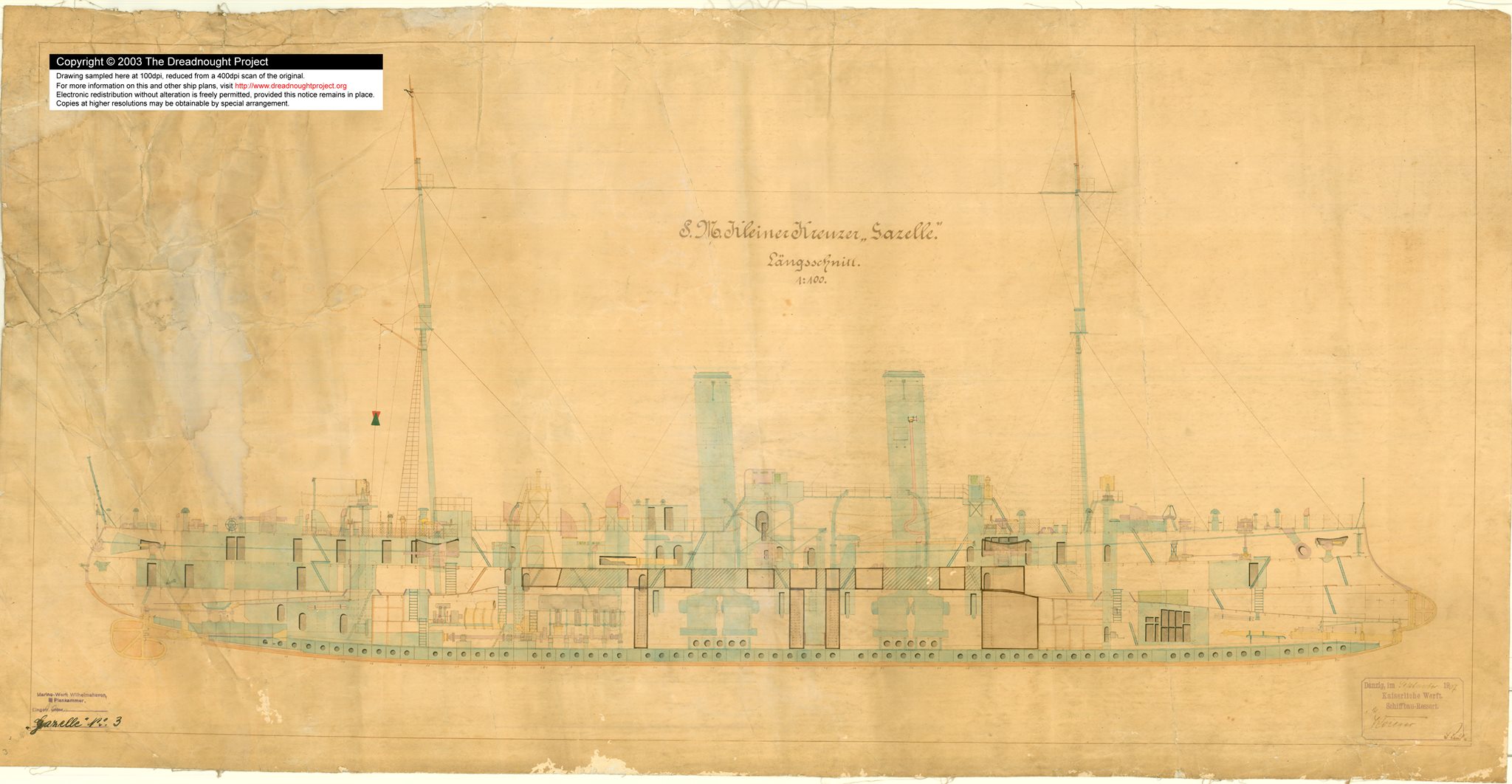 A CUT AWAY VEIW OF THE STD SIDE

DETAILED OVERHEAD PLAN VIEW OF UPPER DECKS

DETAILED OVERHEAD PLAN VEIW OF MIDDLE DECK
---------
Name: SMS Gazelle

Laid down: 1897
Launched: 31 March 1898
Commissioned: 15 June 1901

Out of service: Hulked, 1916

Struck: 28 August 1920

Fate: Scrapped 1920

General characteristics

Class and type: Gazelle-class light cruiser

Displacement: 2,963 tonnes (2,916 long tons)

Length: 105 m (344.5 ft) overall
Beam: 12.2 m (40.0 ft)
Draft: 4.84 m (15.9 ft)

Installed power: 6,000 ihp (4,500 kW)

Propulsion: 2 shafts, 2 Triple-expansion steam engines

Speed: 19.5 knots (36.1 km/h; 22.4 mph)

Range: 3,570 nmi (6,610 km; 4,110 mi) at 10 kn (19 km/h; 12 mph)

Complement:
14 officers
243 enlisted men
Armament:
10 × 10.5 cm SK L/40 guns
3 × 45 cm (17.7 in) torpedo tubes
Armor: Deck: 20 to 25 mm (0.79 to 0.98 in)
-----
SMS Gazelle was the lead ship of the ten-vessel light cruiser Gazelle class, built by the Imperial German Navy.
She was built by the Germaniawerft shipyard in Kiel from 1897 to 1898.
In June 1901 she was commissioned into the High Seas Fleet .
Initially assigned to overseas service, Gazelle participated in the Venezuelan crisis of 1902–03.
She returned to German waters in 1904, and served with the fleet until 1914.
She was employed as a coastal defense ship after the outbreak of World War I in August 1914.
She served in this role until the night of 25–26 January 1916, when she struck a mine off Cape Arkona.
The Navy deemed Gazelle not worth repairing and reduced her to a mine storage hulk, a role she retained through the end of the war.
In August 1920, she was stricken from the naval register and sold for scrap.
----------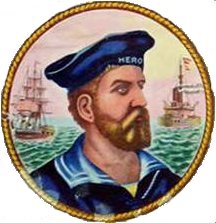 (c) Copyright .................Virtual Dockyard.....................2019